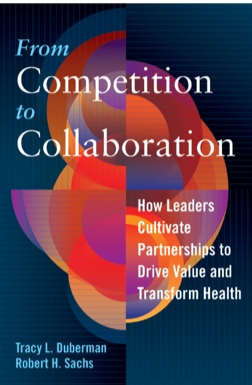 Book
From Competition to Collaboration
Every healthcare executive knows that the US health system is in desperate need of repair, yet the path to real change remains unclear. The shift to value-based care is a step in the right direction, but the move to control costs while enhancing quality will require a significant transformation in all sectors of the field. No single enterprise can address these challenges on its own—organizations must work together, and across sectors, to optimize the value of their services and address affordability, access, and cost.
From Competition to Collaboration: How Leaders Cultivate Partnerships to Drive Value and Transform Health explains how healthcare leaders can navigate the difficult issues that arise when multiple organizations from different sectors and with different operating models, objectives, and cultures work together toward a shared purpose. By using this book's health ecosystem leadership model (HELM™ ), leaders can shift their mind-set toward a broader purpose, focusing not just on healthcare but on health and promoting wellness.
Authors Tracy Duberman and Robert Sachs provide a roadmap for developing new leadership competencies. Using HELM, innovative leaders can work across the various segments of healthcare to meet the mission of creating healthier communities. To illustrate how this model is best applied, the authors offer a detailed fictional case study, as well as real-life examples from leaders who have demonstrated success with collaborative ecosystem initiatives. The book helps define the skills required for ecosystem leadership and presents concrete, actionable techniques and strategies for development.
To make the essential shift toward healthier communities, healthcare needs leaders capable of building and maintaining relationships across the health ecosystem. From Competition to Collaboration offers the tools and guidance to help drive leaders toward this shared purpose.
Fill out the form below to buy the book: