‍At The Leadership Development Group, we celebrate Nurses Week from May 6 to May 12 to shine a spotlight on the incredible contributions of nurses across the country that have devoted their lives to the betterment of the lives of others. As a society, we have asked more of nurses than ever before by asking them to put their lives on the front lines in the fight against the COVID-19. While one week is not nearly enough, we want to take this time to share our gratitude by celebrating the incredible work of nurse leaders, in times of crisis, and always.
We are excited to feature Lisa Colombo, DNP, MHA, RN for her work as a distinguished healthcare leader and professional colleague of TLD Group. We've enjoyed partnering with, learning from, and supporting Lisa throughout the many facets of her career.

Tell us about your experience as a nurse leader during the COVID-19 pandemic and how you were able to leverage your unique background during this period of time.
Lisa Colombo:
As a nurse leader in the middle of a pandemic, I was in a unique position, not a traditional nursing leadership role, to have a critical impact during what's clearly the most significant public health crisis in the last 100 years. I would say being a nurse leader and the executive vice chancellor of Commonwealth Medicine (CWM), the University of Massachusetts Medical School's consulting and operations division, put us in a good place when it came to the state's response to the pandemic. Commonwealth Medicine has traditionally not been led by a clinician; it has been led by people with other healthcare executive backgrounds.
My background as a nurse and clinical operations leader prompted the state to turn to CWM and me personally at the very beginning of this pandemic for clinical advice or clinical guidance. The very first call I received was from the assistant secretary of the Massachusetts Executive Office of Health and Human Services (EOHHS) when the Soldiers' Home in Holyoke disaster broke. When the state became aware that they had a significant issue there, I was asked to go and lead their incident command to set up protocols to stop the outbreak. My work in Holyoke put Commonwealth Medicine in a position to continue to work with the state and bring the resources that the School of Medicine, and Commonwealth Medicine, in particular, have to bear as all the different initiatives throughout the pandemic surfaced.
It started with an emergency response when the outbreaks were happening, and it went from emergency response to management. The testing strategy, quarantining, infection control practices, etc., supporting that in lots of different places, including state-run facilities and some private facilities. When the vaccine became available, we quickly pivoted to the implementation and distribution of the vaccine. We put together a really large pool of volunteers, now known as the Vaccine Corps, that we have deployed across the state. We have partnered with clinical providers who have been able to get the vaccine and needed the additional resources we had to distribute them.
Having a clinical lens, coupled with my operational experience and the expertise of everyone at Commonwealth Medicine, led to a high demand for our services during the pandemic. It is very rewarding to see the tremendous impact we are having.
Would you say that the trajectory of a nurse leader tends to be more operationally focused across more roles than that say, compared to a physician counterpart?
Lisa Colombo:
Traditionally, nurse leaders have been able to translate their clinical operations skills across different settings in the healthcare continuum. Physicians generally take a more direct path, but not always. That's starting to change as physicians are becoming more aware of leadership opportunities across health systems. Still, I definitely think there's flexibility in being a nurse leader that allows the translation of your skillset across multiple settings. My career is a good example of that because I've worked in both in-patient, ambulatory and home care settings. I took it all and moved to this executive role that was completely out of clinical operations and in a consultancy role at a UMass Medical School.
Bringing my clinical and my health systems knowledge, which I've learned both through my education and my experience, I was able to use that to inform the strategic planning for the consultancy within the medical school, making it a more relevant approach to helping solve some of the problems that exist in today's healthcare environment.
For example?
Lisa Colombo:
One example is that the medical school's traditional work was more focused on policy and program development work with public entities. Of course, the pandemic informed a completely different strategy. Understanding how health systems work and what gaps exist allowed me to think about how to build consultancy services that would fill those gaps.
One of the things we did not do before the pandemic was healthcare operations consulting. As soon as I was deployed to the Holyoke Soldiers' Home and started to tap into some of the talents that I knew existed in my organization, I realized that we absolutely have the talent and the capability to do operations consulting. And so, as we were winding our way through the pandemic and coming to the other side of it, a formal plan for developing a solution set for just healthcare operations including quality patient safety, regulatory compliance, infection prevention, all those things. We started to build a slate of offerings and developed a role for and hired a managing director for health care operations. That all just happened in the last year based on, again, responding to a demand that exists in an evolving healthcare environment.
What makes you the most excited about the future of nurses' leadership and work?
Lisa Colombo:
I think out of a crisis good things emerge. Nursing always was talked about as the most trusted profession, but I think in the pandemic, the contributions of nurses across the country and probably across the world, it was impossible to ignore. The value of nurses leading through difficult times and through complicated, complex situations has opened the door for nurses to be back in the seat of being a real partner and an authentic voice in solving problems in healthcare delivery.
---
About Lisa Colombo DNP, MHA, RN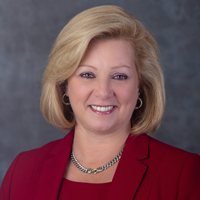 Lisa Colombo, DNP, MHA, RN, assumed the senior-most executive role at Commonwealth Medicine in October 2018, overseeing the health care consulting and operations division of the University of Massachusetts Medical School. She was previously the senior vice president and chief nursing officer at UMass Memorial Medical Center. Colombo held additional roles within UMass Memorial Health Care system, including president of UMass Memorial Clinton Hospital, and both corporate vice president for Clinical Operations and chief nursing officer at UMass HealthAlliance Hospital in Leominster.
Her extensive academic health care management experience includes roles as senior vice president and chief nursing officer at Lahey Hospital and Medical Center, vice president of patient care and chief nurse at the former Milton Hospital, executive director of ambulatory operations at Beth Israel Deaconess Medical Center, director of inpatient nursing at New England Baptist Hospital, vice president of clinical services at Evocare/American HomePatient, and vice president of patient services at the Visiting Nurse Association of Central Massachusetts.
Colombo has taught doctoral level courses in the UMass Medical School Graduate School of Nursing (GSN) for over a decade and has offered advice to GSN leadership as associate dean for clinical practice since 2017. She is also a graduate of Worcester State University and has retained her connections with the institution, currently serving as an alumni representative to the Board of Trustees.
A published author of both book chapters and journal articles, Colombo is a prolific writer on health care and nursing. She has been a published peer reviewer for the Journal for Healthcare Quality and the Journal of Advanced Nursing. Colombo has also served as a member of the executive board of the Organization of Nurse Leaders of Massachusetts and Rhode Island and is also a member of the American Organization of Nurse Executives, the American College of Healthcare Executives and Sigma Theta Tau International Honor Society of Nursing.